For All Your Atlanta City Painting Service Needs
REQUEST A NO OBLIGATION

FREE QUOTE
Please fill out the form below. We will only use your information to contact you about your quote.
The Fully Qualified and Expert Painters Atlanta Residents Prefer
Searching for painting companies Atlanta customers recommend? Well, look no further than Alpha Painting. As one of the leading Atlanta City painting contractors, we have several completed contracts and satisfied clients under our belt. We specialize in providing residential and commercial painting services that meet the highest standards for quality and safety. Over the years, we have been known as the local painters who offer first-class customer service at competitive prices.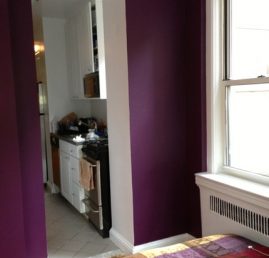 The Trusted Atlanta Painting Company
Due to our commitment to customer satisfaction, we have built a trustworthy business. When you need a painter ASAP, you can contact us and we'll use both traditional methods and modern painting techniques to complete the job promptly and professionally. We are the professional painters Atlanta commercial and residential clients turn to. You can contact us for the following:
Atlanta Painting Services for Commercial Clients
Whether you need painting services for your retail space construction or your annual building maintenance, Alpha Painting is always ready to provide you with a cost-effective yet practical solution. Our team of highly skilled professionals can apply various protective coatings that will make any surface incredibly resistant to the elements. While our finishes can endure high traffic, their aesthetic appeal also adds value to your commercial space. You can trust us to professionally paint a single unit or a large commercial complex while meeting your project requirements and staying within your budget. What's more, all our commercial Atlanta painting services come with a FREE ESTIMATE!
Graffiti removal & prevention
Public spaces and amenities should cultivate positivity and comfort among the members of the community. Unfortunately, unsightly and sometimes offensive graffiti can ruin them. If your business establishment is defaced, it can be detrimental to the image of your company. So, when you need a painter ASAP to handle this issue, do not hesitate to contact Alpha Painting.
We can send our skilled painters to perform graffiti removal services. Moreover, our team will apply anti-graffiti coating on the walls to spare you from the endless cycle of repainting the surface. Ensuring that there will be no mismatched patches of paint, we will apply the coating over all masonry walls. So, in case the vandal comes back to deface the walls, it will be a lot easier to remove the graffiti and avoid permanent stains.
Tips on preventing graffiti
We understand how frustrating it is to have to deal with vandals all the time. As such, we advise our clients to take these anti-graffiti measures:
As soon as you see the graffiti, contact Alpha Painting and let us remove it immediately.
Dealing with the issue promptly will lower the chances of vandals striking again.
Keep a small tin of matching colored paint on hand to paint out graffiti on painted surfaces.
Deter vandalism by planting shrubs or growing climbers up the walls and fences.
Protecting & restoring surfaces
When you turn to Alpha Painting, we can also help you prolong the life of any surface. We use various cleaning and coating techniques that will ensure the durability of the paint. Some of the methods and products are detailed below.
Before repainting any surface, it is necessary to get rid of old paint, dirt, mildew, and other debris. So, you can contact us and take advantage of our pressure washing division. We can restore the original luster of pool aprons, walkways, chimneys, and vinyl surfaces, among many others. Our team can even give a fresh look to your untreated or weathered wood, using our power washing services.
You can hire Alpha Painting for both airless and HVLP spray painting. Our team can spray paint anything—from industrial structures, retail spaces, and commercial establishments to housing units, apartment blocks, and home exteriors. Make sure you contact us to discuss your project, especially since not all areas are necessarily suitable for spray painting.
Intumescent Coating for Protecting Surfaces
What's great about intumescent coating is that its appearance is similar to a paint finish while remaining stable at ambient temperatures. On the other hand, when there is an increase in the temperature (as in a fire situation), a chemical reaction causes the intumescent coating to expand several times bigger than its original thickness. Consequently, the insulating foam-like coating—or 'char'—protects the substrate.
Our Point of Difference
"Highest Standards of Quality and Safety"
As the expert painters Atlanta residents trust, Alpha Painting always adhere to the highest standards for quality and safety. We never cut corners just to complete the job quickly. So, we ensure that all our crew members are qualified and trained to perform any task given to them.
We also work hard to achieve absolute customer satisfaction. As such, we find methods to minimize the disruption that our services may cause. To accommodate businesses that cannot have painting done during regular operating hours, we've opened our weekends and evenings. This way, we can perform our job without disrupting the operations of retail stores, offices, factories, and other commercial establishments.
To hire the best painting contractors Atlanta has to offer, contact Alpha Painting now! Fill out the online form to get your FREE ESTIMATE!
Location
1346 Westmont Rd SW,
Atlanta, GA 30311
Working Hours
07:00 AM - 10:00 PM
Monday - Sunday